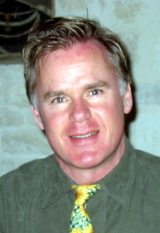 Personalized and Professional.
As a customer of Main World Hosting, you'll be the beneficiary of one-on-one service from a dedicated, professional individual: Donald Main. Donald is dedicated to providing reliable website hosting solutions of the highest quality. All hosting plans come with a 99.9% up-time guarantee.
Donald's focus is on consistency, dependability, and customer support. The personalized attention you'll receive from him is backed by one of the most innovative hosting facilities in the industry, where equipment is continuously
upgraded
and
updated to ensure that you have the most advanced hardware working for you. The network backbone consists of multiple connections, including Global Crossing®, Internap®, Level3®, NTT America, Qwest®, Comcast®, Equinix, SIX, Telefónica, and Time Warner. With Main World Hosting, you'll experience the best of both worlds: a real person to call or email when needed and the backing of one of the most reliable hosting facilities in the world.
Main World Hosting can host your site from first class facilities in Amsterdam (Netherlands), Berkshire (UK), Seattle, WA, Dallas, TX, Washington, DC (USA), and in Singapore.
Main World Hosting customers can also take advantage of the latest technology in website hosting services - Cloud Hosting.